How To Choose The Best University To Study Abroad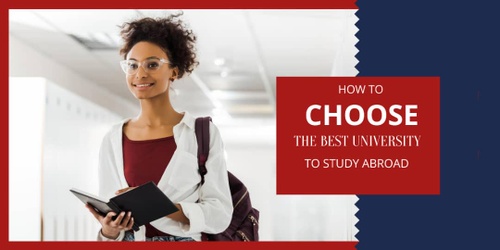 So, you've decided to study abroad, an amazing decision! Then comes the next question, "how do I choose the best university to study abroad?" One of the most significant factors to consider when planning your school application is choosing the right university. There are several universities across the globe, and finding the best university to study abroad can seem daunting. 
However, the first element you should consider is that choosing the best university to study abroad is more than settling for any university that offers your preferred course of study, especially true when it is a professional course.
Many universities already offer such course options. Other factors you should take into consideration include: the location, average cost of living, climate, scholarship opportunities, accommodation options, travel requirements and the list goes on. 
This blog post is a step-by-step guide to help you determine, to the highest degree, the most suitable university for you.
Picking The Right University To Study Abroad
One of the most common challenges students looking to study abroad face is choosing the most suitable institution. It can indeed be challenging because there are many factors to consider and a few things to check off the list before selecting the best choice. Without wasting time, let's delve right into how to choose the best university to study abroad.
Determine your course of study 
Whether it is an undergraduate or a postgraduate course, determining your course of study is vital as it probably plays a role in your career. Be sure to articulate what you aim to achieve in the long run and identify a course that helps you achieve this.
Make a long list of preferred countries
A long list contains all the countries you would like to study. The plan helps you weigh them unequivocally to determine the most suitable country. Make sure that your list is not based on sentiments and hearsay but facts. Let's discuss this in the next point.
Research 
Research is critical. Proper research helps you identify what to study, where to go, the culture, the cost of living, and many more. Do your research well and talk to people, if possible, who have and are still studying in these countries to get a feel of their experiences. Having done this, you can begin to cross off unsuitable options based on your research, preferences and long-term objective.
Long List of Universities 
Once you have decided on your preferred course(s) and countries based on your research, the next step is putting together a list.  An excellent way to filter is by checking out top universities within the country.
More Research
Once your list is full, more research is needed. The first thing is to determine whether you qualify for the university's entry requirements for your course.  Other necessary information to cover includes the course requirements, the school's reputation, accommodation options, the
average cost of living and the school facilities.
Consult an Agent
 While it's a good idea to run through this process on your own, a better idea would be to work with agents who are exceptionally experienced and proficient at this. Good Educational Agents will not only help you make a great decision regarding what to study, but they'll also help you identify the best places for your study with your goals and aspirations in mind.
Solid-Link Consulting has a wealth of experience in counseling and guiding aspiring international students in identifying courses and schools that match their dreams and ambitions. Beyond helping you make the right decision, Solid-Link helps our clients make their dreams a reality by providing professional help with the admission application, visa processing and other needs.
You can contact us if you ever need help with finding the best institution to study abroad.